May 29, 2018
Speakeasy by Sarina Bowen *REVIEW*

by Sarina Bowen
Release Date: May 29, 2018

KBN Rating:
Sometimes you fall for Mr. Right. And sometimes for Mr. Right Now…
May
Did you hear the one about the girl who walks into a bar and catches her live-in lover kissing someone else? No? You're the only one in town who missed it.
Luckily Alec is there to wrap me up in strong arms and carry me out the door before things get too ugly. And that's not all Alec is good at. Our unexpected chemistry makes him the perfect rebound guy.
Alec
I should know better than to hook up with my rival's little sister, but the fiery look in May's eyes really turns my crank. She needs cheering up, and I'm just the guy for the job.
It's not like I'll fall in love. Not even after a string of scorching hot trysts, and the realization that we're good at the same things: wild nights and familial disappointment. I don't do love, never have, never will. So this is the perfect arrangement, for both of us.
Nobody would approve, but nobody has to know…
Steadfast is book number 5 in the True North series by Sarina Bowen and at this point, she has me convinced that the Shipley Farm is a real place that I need to visit and invite myself to Thursday night dinner with the family.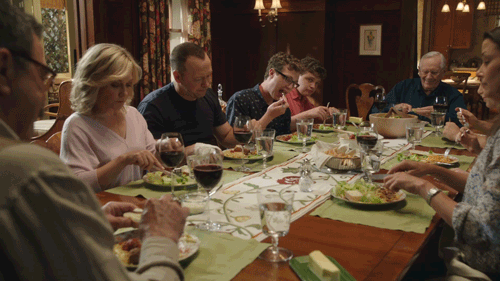 My heart broke for May in Steadfast (Book 3). She was going through a really difficult time in that book so  I knew it was going to be emotional before I even read the synopsis. I also knew we would be diving deep into Mays journey into sobriety and the message of this book would be important and uplifting.
It's revealed in a previous book in the series that May is bisexual and Steadfast begins with her in a long term relationship with a woman. (A really awful woman IMO. lol) But, for the majority of this book she's with a man. (A really awesome man IMO.) 😉
Alec is such a fun character to balance out May. I worried that his spontaneous and carefree nature (not to mention him being a BAR owner) would be hazardous for May but their relationship ended up being so sweet and exciting that the hazards seemed to wash away with every chapter. The bar did play an integral part in this story but it wasn't as bad as I thought it might be in the beginning.
The love scenes are crazy hot in this book. The secrecy of their relationship and always wondering if and when they're going to be caught together was exciting to read. May surprised me in how adventurous she could be and Alec surprised me in how tender he could be.
Steadfast is a really good read. There was just something missing for me. Although I truly did enjoy this story, I didn't find myself staying up all night reading because I couldn't wait to see how it all ends. Every previous book in this series has been a stay up all night reading kind of book to me so that's why I cannot give Steadfast 5 stars. If I was solely looking at this book by itself and didn't factor in the way other books in the series made me feel, this book would more than likely be a 5 star read to me.
So, that's why I had to give Steadfast 4.5 out of 5  KBN stars.
The message in this story IS important and uplifting. It changed my way of thinking about addiction and how hard it is for someone struggling with it to stay sober and live their life.
Xo-K
*I was generously given an advanced copy of this book in exchange for an honest review.
KBN reviews of the previous books in this series:
Sarina Bowen is a USA Today bestselling author of contemporary romance and New Adult fiction from the wilds of Vermont.

Her Ivy Years and Brooklyn Bruisers books are hockey romance novels. These two connected series began breaking hearts in 2014 with The Year We Fell Down. See http://www.sarinabowen.com for updates.

HIM and US are the bestselling, hockey LGBT novels co-written with Elle Kennedy. HIM is also a finalist for the Romance Writers of America's RITA® Award.

For lovers of angsty snowboarders, Sarina also writes the Gravity series, featuring snow sports heroes.

Sarina enjoys skiing, coffee products and a nice glass of wine. She lives with her family, six chickens and more ski gear and hockey equipment than seems necessary.

She would be honored to connect with you at http://www.sarinabowen.com.
(Click on the book for more information.)