June 26, 2018
One Small Thing by Erin Watt *REVIEW*

by Erin Watt
Release Date: June 26, 2018
KBN Rating:
From the #1 New York Times bestselling author duo of The Royals and When It's Real comes a sensational new novel about a girl falling for the one boy she should never have met…

Beth's life hasn't been the same since her sister died. Her parents try to lock her down, believing they can keep her safe by monitoring her every move. When Beth sneaks out to a party one night and meets the new guy in town, Chase, she's thrilled to make a secret friend. It seems like a small thing, just for her.

Only Beth doesn't know how big her secret really is…

Fresh out of juvie and determined to start his life over, Chase has demons to face and much to atone for, including his part in the night Beth's sister died. Beth, who has more reason than anyone to despise him, is willing to give him a second chance. A forbidden romance is the last thing either of them planned for senior year, but the more time they spend together, the deeper their feelings get.

Now Beth has a choice to make—follow the rules, or risk tearing everything apart…again.
The beginning of this book felt like chaos for me to read.
It reminded me a lot like the beginning of The Host by Stephanie Meyer where the first few paragraphs are chaotic and it's difficult to piece together what is going on in the words that you're reading.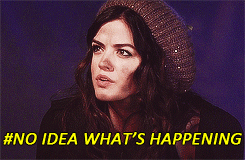 Then I remembered, that much like The Host, there's a usually reason for an author to begin a story this way and I began to relax. I was then able to take in the story that was unfolding through the pages and put the pieces the puzzle together in my mind.
By the end of chapter five I decided I loved this book.
The big "twist" totally caught me off guard and I was truly impressed with the way the authors bring you to that point in the story and had me essentially rooting for the bad guy.
The angst in this read is immense.
One Small Thing is more than just a teenage angst filled read though. The situations contained within its pages are super deep and thought provoking so you're left with so much more than just a great love story in my opinion. (The love story is pretty great though.) 😉
I give One Small Thing 5 out of 5 Krissy's Stars!
If you're in the market for an emotionally charged, thought provoking read this summer, I think you're going to love this book.
Xo-K
*I was generously given an advanced copy of this book in exchange for an honest review.
Erin Watt is the brainchild of two bestselling authors linked together through their love of great books and an addiction to writing. They share one creative imagination. Their greatest love (after their families and pets, of course)? Coming up with fun–and sometimes crazy–ideas. Their greatest fear? Breaking up. You can contact them at their shared inbox: authorerinwatt@gmail.com
(Click on the book for more information.)